Become a Young Associate
Membership provides young business and community-minded leaders with personal and professional development opportunities, while supporting business education in Manitoba. The Young Associates is open to all young professionals, and includes entrepreneurs, senior executives, accountants, lawyers, investment professionals and others representing virtually every sector of the Manitoba economy.

To accommodate our members' schedules, we meet at different times and venues: before work breakfasts, lunch-time speakers, after work tours and evening activities.
Top 10 Reasons to be a Young Associate
1. Gain access to unique professional and educational development opportunities.
2. Partake in behind-the-scenes tours of Winnipeg's most dynamic companies.
3. Learn first-hand from distinguished business leaders and CEOs at the YA's Boardroom Series events.
4. Connect with a diverse group of like-minded future Manitoba leaders.
5. Gain experience as a mentor and volunteer with the Asper School of Business.
6. Take advantage of leadership opportunities by engaging in committees and the Young Associates Board.
7. Be a part of the YA's success story, helping to grow the organization with events such as the flagship IGNITE Dinner.
8. Access discounted pricing for the International Distinguished Entrepreneur Award (IDEA) Dinner.
9. Support the Asper School of Business in delivering world-class business education in Manitoba.
10. Connect with prominent members of the business community via special invitation to select Associate events.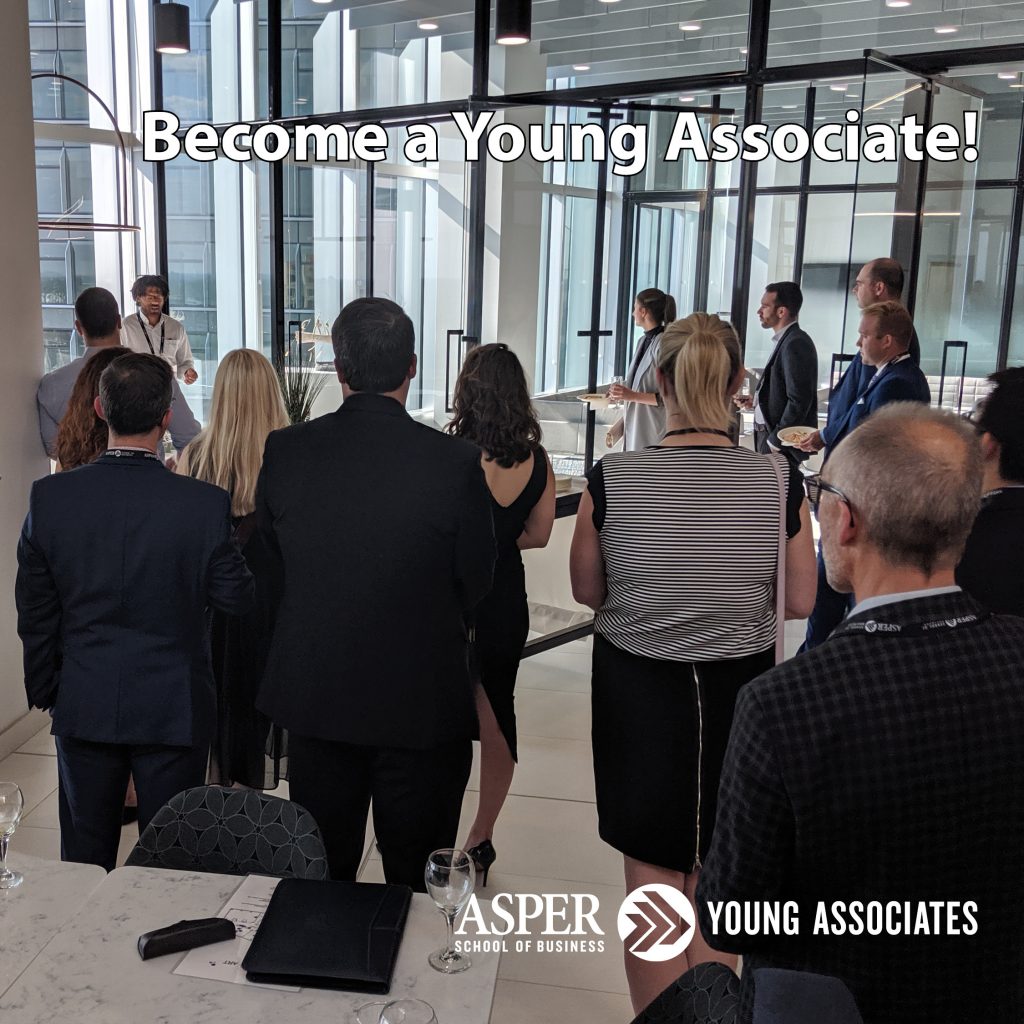 Annual Membership Fees
Full Membership $325
Membership includes access to educational and professional development events, social and networking gatherings, and volunteer opportunities at the Asper School. Receive discounted admission to signature fundraising events and a charitable tax receipt of $75.
Student Discounted Membership – Asper Undergraduate Student $162.50
Includes all of the benefits of a full membership without the charitable tax receipt.
This membership category is applicable only to current undergraduate Asper students and those within one year of graduation.
Young Associates Membership Form
Email your YA Membership Form to info@associatesmb.ca.
Associates Transition Membership
The Young Associates is designed for professionals under 40 years of age.  The Associates offers a Transition Membership that is open to applications from current Young Associates. Transition Memberships are granted to Young Associates nearing the end of their YA eligibility who meet the Associates' requirements for demonstrated community commitment and  executive or leadership workplace roles. The three year transition period allows the member to gradually enter the Associates with access to both organizations' events, increased school engagement opportunities, and initially reduced membership pricing.
The Associates Transition Membership fee structure and access to membership benefits are as follows:
Year One:  $500 – Initial transition year with access to all YA and Associates events and programs ($150 charitable tax receipt)
Year Two: $800 – Second year of dual membership with access to all YA and Associates events and programs ($425 charitable tax receipt)
Year Three $1,300 – Full member of the Associates, no longer a YA ($1,075 charitable tax receipt)
Become A Young Associate
Throughout the year the Young Associates host membership information events. Upcoming ones will take place on:
February 7, 2024 at 5:30 pm | Manitoba Club, 194 Broadway
June 4, 2024 at 5:30 pm | Manitoba Club, 194 Broadway
To learn more about the Young Associates membership, please contact AnnaMaria Toppazzini, CEO of the Business School Foundation by email at ceo@associatesmb.ca or by phone at 204.981.4880.