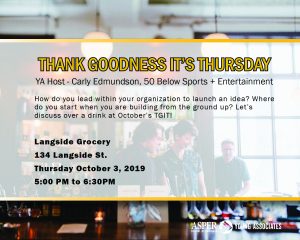 Carly Edmundson is a creative professional with more than 10 years of experience in marketing and communications. She is passionate about finding ways to create meaningful connections and creating a sense of community through marketing and communications strategies. She has worked in a variety of industries and has specialized in 'starting from scratch' to take a vision to reality throughout her career. Her experience includes marketing at Winnipeg Airports Authority where she focused on the marketing strategy surrounding building and opening the new terminal building and CentrePort Canada Inc., where she worked to build North America's largest tai-modal inland port.
As the Director of Marketing for 50 Below Sports + Entertainment, Carly leads the marketing and communications strategy for the Winnipeg ICE (Western Hockey League), Winnipeg Blues (Manitoba Junior Hockey League) and the RINK Training Centre.
Registration for TGITs are not necessary, reservations are under Young Associates. Contact events@associatesmb.ca for more details.